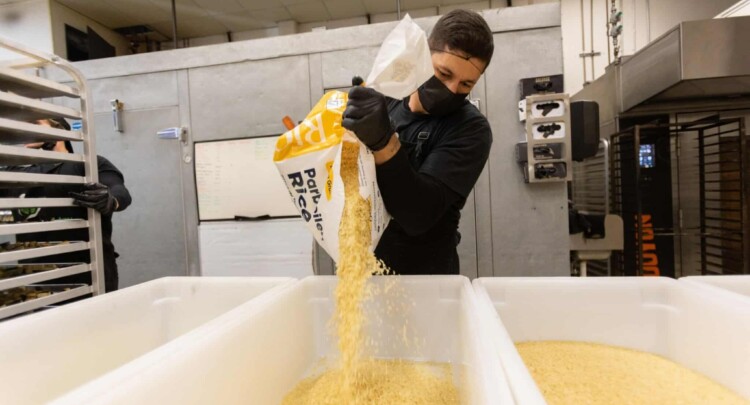 Citrus Habanero Marinated Chicken Breast
Our Citrus Habanero Marinated Chicken Breast meal prep will be our highlighted meal of the week. We will also show you ways in which our company is constantly improving to show our appreciation. The aspects we will focus on are our culinary department, our IT, marketing, and system operations department, and our logistics department. 
Marinade and Salsa Preparation
To begin our week we will prepare our Citrus Habanero marinade and our habanero chunky herb salsa. The combination of the citrus and habanero flavors provides a sweet heat that is very popular amongst our clients. The culinary department has a tested research and development process they go through when creating these meals. Our chefs come from all different specialities and by combining their knowledge they can create delicious combinations such as this.
The citrus habanero marinade will contain lime juice, orange juice, cilantro, fresh habanero, habanero sauce, salt, black pepper, cumin, and coriander. The marinade is then applied to the chicken breasts in the morning to allow time for the flavors to sink in. Once the chicken has sat with the marination we sear and cook the chicken breasts, then store them in our fridges until ready to be plated.
The chunky habanero salsa will contain tomatoes, red onion, cilantro, habanero, agave, garlic, salad oil, salt, pepper, and lime juice. Using our industrial hand mixers we mix while consistently testing the salsa for flavor. Once we have the flavor and consistency we are looking for it is stored until we package the meals.
Rice and Vegetable Preparation
Next in our Citrus Habanero Chicken Breast meal prep we will make our rice and vegetables. 
The Spanish rice is first washed and put into large bins where it will be seasoned. Once the rice has been washed and seasoned it is then moved i to baking pans. The baking pans are then inserted into our rational ovens. These state-of-the-art ovens allow us to make large batches of meals without worrying about inconsistent cooking. Their ability to rotate allows for even temperature to be given to all the meals in the oven. Once the rice is cooked the rice is separated and stored in our fridges until they are ready to be packaged.
We end the day by preparing our vegetable mix. The vegetables we will be using are zucchini, cherry tomatoes, and beans. All of these ingredients are sauteed on our stovetop grills. Throughout the sauteeing, the vegetables are being seasoned and tested for consistency. We always take care to make sure all of the vegetables are cut into identical sizes so every customer gets the same experience. 
Packaging Citrus Habanero Marinated Chicken Breast
Today we are plating and packaging our Citrus Habanero Chicken Breast. We start the plating of the dish with our habanero salsa, then add the Spanish rice, sautéed vegetables, and finish it off with the Citrus Habanero chicken breast.
During the plating, we have different amounts of protein and carbohydrates depending on our clients specific goals.
After every batch is plated, we'll seal the meals using our advanced packing technology equipment, which allows us to decrease the Oxygen inside the container down to 1% and slow down the oxidation process drastically. We strongly recommend the meals be consumed within 5-7 days of delivery, but because of the technology's ability to reduce the oxygen in the container, the meals are able to last up to 12 days.
In addition to showing our weekly meal prep, we also want to show how some of our departments are improving for our clients.
Starting with our IT Department, led by Tassio Souza. This department is actively working on improving our ordering process. They are also creating a system interface for our clients and building an application for our delivery. This will help us improve our ability to notify our clients and give them the ability to track their meals. 
Second, is our system operation team. They consistently review our various departments actions to help avoid any mistakes. They also track the weekly survey to go over our clients' feedback.
Lastly, is our marketing team. They come up with ways to educate our clients on how our service works and help clients understand why our service is the best fit for them.
Refer friends and family and save 10% for each!!
Simply have them sign up on our website and mention your name in the notes section